""Manuel's is an against-the-odds story of immeasurable courage, strength and determination overcoming extreme adversity. His testimonial leaves audiences not only awed and inspired, but also moved towards change. No one who hears Manuel will ever be the same.""
Masie Bross
Director of Whiz Kids, Inc.
You Can Be a Student's Best Hope!
Are you or your staff starting to wonder whether your work as an educator matters? Do you or your staff have tired, heavy hearts, and are seriously thinking about walking away from education?
Takeaways from Keynote
Get a powerful reminder of your "Why?"
Get a new lens through which to see youth, their families, and yourselves.
Self-awareness that allows you to build bridges into the lives of your students, staff, and co-workers.
A renewed heart to showing up for kids.
Keynote Details
60-90 minute presentation.
Ideal for groups who work with underperforming youth, and those who serve vulnerable populations.
Ideal for convocations, conferences, professional development days.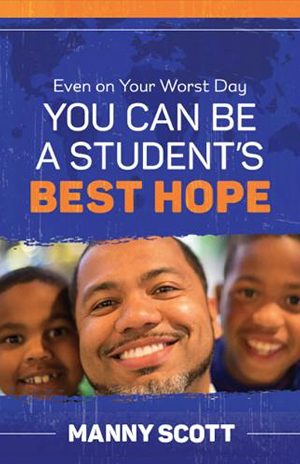 Even on Your Worst Day You Can Be a Student's Best Hope
As Manny Scott travels the world speaking to students and educators, he meets young people whose stories sound a lot like his own—a childhood that was marked by poverty, instability, violence, and despair until a…
Buy This Product