"I used to think Manny Scott was the best speaker I had ever heard in my 46 years in education—and I still do. But I believe, after hearing him teach [my administrators and teachers] today, that his strongest suit is that of lecturing and teaching and interacting with an audience. ... He puts it in a way that is easy to understand. Plus, he brings great credibility to it because of his background."
Dr. Keith Ballard
Professor of Educational Leadership and Policy Studies at Oklahoma University
Be Equipped With The How
We are in a new world, characterized by rapid changes in population density, technology, immigration patterns, ethnic, religious, economic, and political diversity. These changes have created a world that requires school employees to regularly interact with people of different cultural origins—be it in their classrooms, in schools, next door, across town, or thousands of miles away. Whether or not schools embrace these changes, these "conversations" will continue to increase in both frequency and intensity and grow in importance.
In How to R.E.A.C.H. Youth Today, I equip school employees with the awareness, understandings, and skills to communicate across those differences, to reach across those divides, and to teach across those cultures.
My R.E.A.C.H. Method
Drawing from my personal life, my studies, and from 18 years of working with over one million children and youth in 48 states, I have developed an approach to reaching youth that has helped countless youth improve their lives.
R stands for RELATIONSHIPS. Relationships are the foundation upon which all education stands. All goals for growth in education must pass through the door of relationships. Relationships are the floor, the window, and the door of education. I teach your staff six proven ways to cultivate healthy, life-changing relationships with students.
E stands for ENGAGEMENT. Students can't learn or grow if they are bored, so educators must engage them in unexpected, positive, innovative ways. I show your staff how to come up with creative strategies to capture and keep the attention of individuals and groups.
A stands for AWARENESS. Underperforming students do not change because we want them to change. Ultimately, people change when they become painfully aware of some imbalance in their lives or powerfully inspired by new possibilities. I teach your staff several techniques that I have used to disequilibrate even the most challenging students and help them become aware of their need to change.
C stands for CONVINCE. After students become painfully aware of some imbalance, or powerfully inspired by some new possibility, they are ready to be convinced that education can unlock the doors to their brighter tomorrows. I teach your staff several strategies I have personally used to persuade students to value education and take school seriously.
H stands for HAND. Your staff can't coerce underperforming students to change their lives. All they can do is put themselves in position to help students make decisions to change their own lives. Students must eventually make the decision to take proactive steps to improve their attitudes, their grades, and their lives. I teach your school employees over twenty ways to help students turn the page to begin writing (working toward) new, more fulfilling chapters in their lives.
Your Staff Will Learn:
How to develop the awareness of their own cultural conditioning and linguistic-particularities.
How one's lack of cultural self-awareness can create bridges or barriers those we want to help.
How to become better, more intercultural competent students of their students.
How to relate to students in ways that affirm their dignity as human beings and empower students to flourish.
How to analyze their students' social structure, language, media influences, goals, and underlying values and assumptions.
How to write lesson plans that capture and keep the attention of students.
How to earn the trust of even the most distant student.
How to persuade students to take education seriously.
Sample Schedule:
8:30am - 10:00am: Introductions and RELATIONSHIPS: The Road to Real Relationships
10:00am - 11:00am: ENGAGEMENT: How to Capture and Keep the Attention of Your Students
11:00am - 12:00pm: AWARENESS: How to help your students become aware of their need to change.
12:00pm - 12:30pm: Lunch Break
12:30pm - 1:30pm: CONVINCE: How to persuade your students to value education and take school seriously.
1:30pm - 2:30pm: HAND: How to extend your hand and help students turn the page.
This seminar takes at least 4 hours to facilitate (although content from this seminar can be customized for a shorter keynote presentation).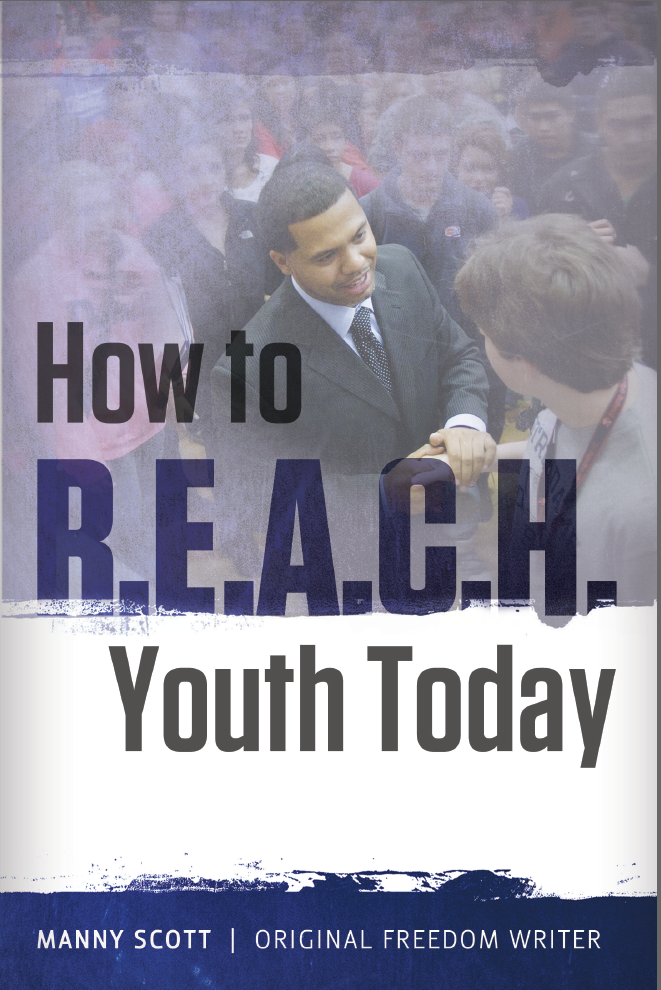 How to R.E.A.C.H. Youth Today
What are some specific things leaders can do to reach today's youth? In this 144-page book, Manny shares several proven practices and principles that engage, equip, and empower people everywhere to turn the page. Based…
Buy This Product