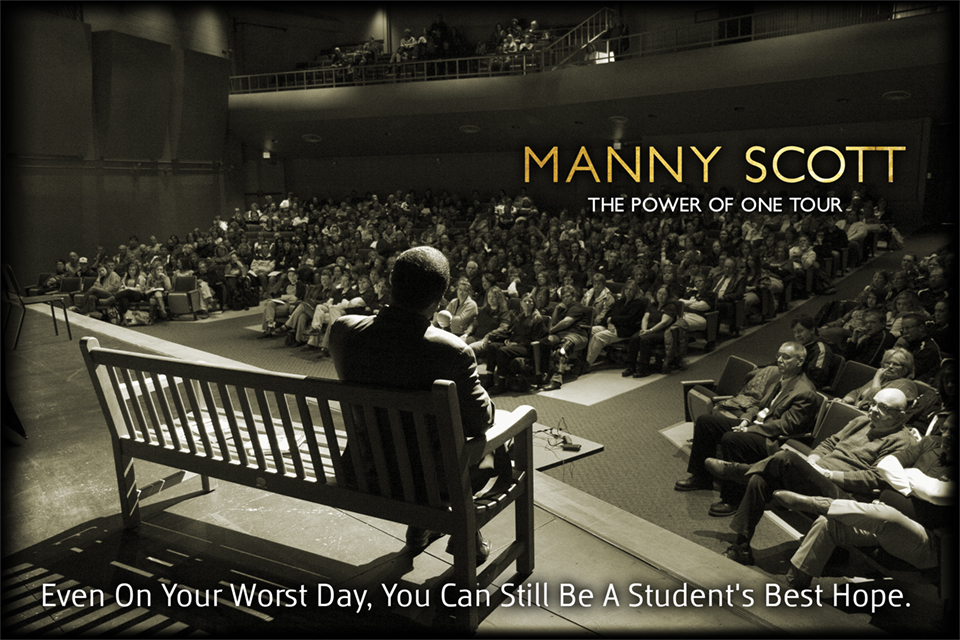 School is about to begin very soon, but many teachers are not looking forward to it. They entered education because they wanted to make a positive difference. However, many of them are tired- they are tired of having their self-worth tied to a score on a test; tired of politics, tired of being under-resourced, tired of being blamed for problems they didn't cause; tired of being overworked, unappreciated, and underpaid. Many of them are starting to wonder whether they matter, whether their work matters, whether they are even making a difference. With tired, heavy hearts many of them are seriously thinking about walking away from education.
Honestly, I can't blame them.
You see, if you allow me to be completely honest with you, I have seriously been thinking about walking away from this work too. I have been speaking professionally for almost 18 years, and I have been on the road 200 to 300 days a year; and, I've been tired.
When I think about all the challenges facing public education, and the tens of thousands of heartbreaking stories students and staff have privately shared with me - all the molestations, the incest, the rapes, the beatings, the suicides, and the murders; the sadness, sorrow, emptiness, despair- the tragedies- when I think of those things, I must admit that sometimes my heart becomes so heavy, so tired, that the weight has sometimes taken me to a very dark place. Because of that, more than ever, I have seriously been thinking about walking away from this work.
But right when I am about to walk away; right when my hope is about to give way; just when I am about to say that the human condition is too bad, that the school system is too broken, that the battle is not worth fighting, I am reminded of one undeniable truth that I just cannot shake: when I was going through the most difficult moments of my life; when I was so sad that I used to cry myself to sleep at night, drenching my pillows (or the floors of homeless shelters) with tears and hoping that my eyes would not open the next morning- when I was in those dark places, it was loving adults, many of them teachers, who, despite all that was wrong in the world, lovingly met me at my point of need and helped me overcome so many seemingly insurmountable obstacles in my life.
Because of that undeniable truth, I just can't walk away. Not yet. Encouraging tired, worn out teachers is the least I can do to say "thank you" for their work. Also, there are kids who, right now, are hurting and feeling hopeless. There are kids who, right now, are about to give up, drop out, go down the wrong path, and ruin their lives. Right now! Soon, they will be showing up at school, and they need hope and they need our help. We must keep fighting for them!
So, after taking some time off to sit in silence with my soul, to pray, to be renewed, to just be a husband and a dad, I am going back into battle! I am going back out on the road, and will be speaking 41 times, in 31 cities, and 21 states to tens of thousands of adults. I am going back into the battle with a burning compulsion to tell every adult who works with kids in our school systems that "even on your worst day, you can still be a student's best hope!" I am going to try to persuade everyone who hears my voice that one act of kindness, one word of encouragement, or one gesture of genuine love from a caring adult can literally change the trajectory of a student's life. I am living proof!!!
I am going to look into the eyes of people all over our nation who work with kids, to inspire them, challenge them, enlighten them, inform them, uplift them, encourage them, and send them into this school year renewed. Someone's life is going to be changed! I can already feel it!
So I invite you to join me on this journey. For the next 8 weeks, make sure you #BestHope any photos, tweets, or posts from your event and I will repost them onto my website.
Also, if you would like to send me a message of encouragement or a message of how my message impacted you during this tour, please #DearManny on your post.
I will do my best to read and respond to you between stops.
This tour is going to be exhausting, but amazing!
For the future of our kids and our country, please help me spread the word: even on your worst day, you can be a student's best hope. (That's also the title of my newest book.)
With a renewed, vigilant hope, I remain.
Manny Scott
Tour Dates