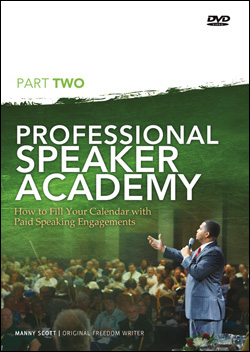 How to Fill Your Calendar with Paid Speaking Engagements
Want to fill your calendar with paid bookings? There are several things you MUST be, you must do, and you must have before others will hire you to speak to their group.
With over 5 hours of exclusive video, Manny Scott will teach you:
How to identify your potential buyers.
The hierarchy of ways in which people decide to book you.
The 5 steps of speaker marketing.
10 ways to determine the marketability of your topic.
17 things people look for before they book you.
How to develop real relationships that lead to real bookings.
What to talk about when you are on the phone with people who can hire you.
The secrets of negotiation.
How to talk about money with potential clients.
How to turn cold calls into warm calls.
How to set your speaker fee.
How to create contracts that protect you from being taken advantage of.
How to write proposals that get accepted almost every time.
How to ask for business.
How to work with speaker bureaus.
... and so much more!