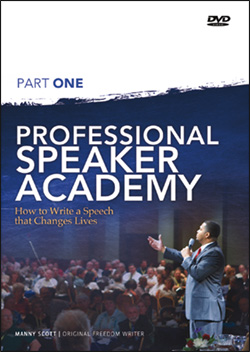 How to Write a Speech that Changes Lives
Do you have a story that needs to be told, but want to learn how to tell it more effectively? A message that needs to be heard? Do you want to learn how to summon the English language and send it forth into battle? If so, this program is for you.
With over 6 hours of exclusive video footage, you will learn:
The 5 steps of speech mastery.
8 effective ways to organize your presentation.
How to speak without notes.
How to overcome nervousness before a speech.
How to pinpoint the primary needs of your audiences.
50 ways to make your speech sing and sting.
About 3 kinds of speakers and why only one does well.
How to identify your "tip of the arrow."
The 5 secrets you must mater in order to survive and thrive as a speaker.
7 fundamental human needs, and how you can address them in your speeches.
... and so much more!