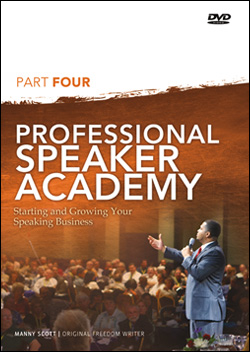 Starting and Growing Your Speaking Business
How do you start and grow your speaking business? When should you quit your job and begin speaking full-time?
Through several hours of exclusive video, Manny Scott will teach you:
How to develop and effective business plan for your speaking career.
How to determine your overhead, your breakeven, your sufficiency.
How to create a budget for your business.
How to avoid burnout.
How to train those who join your team.
The nuts and bolts of starting your business.
Accounting.
Taxes.
Insurance.
... and so much more!